Tuesday Tom - What You Should Be Reading (11-29-22)
Recommended reading on billionaires, anti-Semitism, media failures, the Proud Boys - plus some Curtis Mayfield the Mexican Sunflower. It's what you need to read.
Greetings friends and welcome back to the recommended reading section of your friendly neighborhood newsletter. Great things await, but first a word from your sponsors. 
I've added a paid subscription option to The Liberal that we're calling the Beer Fund. The goal is two-fold: settling my considerable bar tab, and seeing how the platform works as a paying venture for writers. I'm happy to announce that we've already had a few subscriptions! Thank you to the true visionaries who signed up. Consider this a light PSA to the rest of you wonderful readers - if you like what you're getting, consider subscribing. There will be suitable bonus items, as they occur to me. So click that upgrade button. Now on to the week's reading material.
The Liberal by Tom Watson is a reader-supported publication. To receive new posts and support my work, consider becoming a free or paid subscriber.
That Old Anti-Semitism
This week, I'll be traveling to France on a brief trip and as I'm packing, the news of former President Trump's dinner at his Mar-a-Lago catering hall home with the notorious anti-Semite Nick Fuentes is riling the national political waters. (If you need more background, here's the ADL's full jacket on Fuentes). That Trump pals around with open Jew haters like Fuentes and Ye is hardly surprising, but I think it's important to consider the history. None of this is new; indeed, Trump's father was a Klansman on Long Island during a pre-war era in which another brand of "America First" scapegoated Jews and threatened violence. Anti-Semitism has never gone away here.
But I'm thinking about how the visible shadows are now returning to Europe, where one of the greatest against man in the history of our species was perpetrated in the name of anti-Semitism. So I came across this Smithsonian essay by Michael Brenner, which revisits the violence so present after World War One - and links those harbingers of what became the Holocaust to the rank anti-Semitic language wielded against Ukranian President Volodymyr Zelenskyy. 
The anti-Semitic attacks against Zelenskyy, who might one day be remembered as the most popular Jewish hero of this era, now come from outside the country. As a historian of European Jewish history and anti-Semitism, I believe they are designed to foment hate and undermine his extraordinary leadership in the face of an unsolicited attack on a free nation.
It's well worth reading, and I'll share my own "pinned" Tweet here, which I've had up for the last several weeks, perhaps because of the new owner of that site and his own history. 
https://twitter.com/tomwatson/status/1584544106776498176
The Liberal by Tom Watson is a reader-supported publication. To receive new posts and support my work, consider becoming a free or paid subscriber.
Moving On From Billionaires
My friend Amanda Marcotte is always an engaging and provocative writer; hopefully it's a compliment to note that she's stopped me in my well-worn tracks many times over the last 15 years. Made me question more than a few assumptions. That's pure writing value, folks! This week in Salon Amanda took aim at the concept of billionaire worship as we all see the knuckle-headed and also monstrously cruel person that Elon Musk has been revealed as. But as Marcotte notes, this ain't exactly new, certainly for Musk for more often than not, for the whole financial class. Yet our culture equates vast wealth not just with successful financial ventures (or swindles) but with other qualities like wisdom, insight, intelligence, and even taste.
This presumption that wealth equals brains has so permeated our society that it's sometimes hard to see how pervasive it is. But the past couple of years — and indeed, just the past couple of months — have really done a number on the belief that having a fat bank account somehow inoculates one from being a dumbass.
In much of my working life, the daily tasks revolve around seeking funding from many of these captains of wealth. But as readers here will know, I've written about two billionaires in the pages of this nascent venture. One is the coarse loud-mouthed oaf that Marcotte skewers so thoroughly. The other is MacKenzie Scott - who says not much at all, and believes in funding strong institutions that help people. So maybe some billionaires are smart.
The Liberal by Tom Watson is a reader-supported publication. To receive new posts and support my work, consider becoming a free or paid subscriber.
Read These Books Immediately
Two very strong recommendations today, for books that will help you to make sense of the current moment with context, accuracy and style.
To better understand how the media is failing to defend liberal democracy, read Newsroom Confidential: Lessons (and Worries) from an Ink-Stained Life by Margaret Sullivan, former public editor of the New York Times and columnist for the Washington Post.
And to better grasp just how well organized and dangerous right wing hate groups in this country actually are, pick up We Are Proud Boys: How a Right-Wing Street Gang Ushered in a New Era of American Extremism by Andy Campbell, a fearless investigative journalist and an excellent storyteller.
To me, the New York Times took a downward step when Sullivan left before the 2016 election, and the paper later eliminated her ombudsman's post. She shares her insights on that disastrous election in particular, cutting no corners on the NYT's failure to defend democracy and its adoption of "both sides" coverage of an extremist would-be authoritarian. But Sullivan's book goes beyond the Times to strike a chord on the weakness of our political media coverage in general - its basic cowardice, which is not a word she uses but a portrait she sketches in vibrant personal experience. Sullivan was a Buffalo news editor and that hardscrabble experience and its consequent withering stare-down of hypocrisy serves this book well.
Andy Campbell has written an incredibly important book - one that gets at the roots of the January 6th insurrection for certain, but also the bizarre cultural underpinnings that created the neo-fascist Proud Boys and their often violent brethren. Shannon Powell and I interviewed Andy for our No Surrender NY vlog, and his enthusiasm for the subject is matched only by his outrage over the growing influence these modern brownshirt thugs have on right-wing politics. What stands out to me in reading this book is the organizing skill the Proud Boys exhibit, the creation of a strong national network, and their clever (if evil) messaging - these were all qualities we used to think of as benevolent, like the Internet itself. So sobering.
Tweet of the week (as long as Twitter lasts):
Dean Obeidallah channels Margaret Sullivan:
https://twitter.com/DeanObeidallah/status/1596855940695076866
Video of the week:
Because you can never have too much Curtis Mayfield:
https://www.youtube.com/watch?v=i2ET8V0hXkU
Garden photo of the week:
The killer frost finally took them down two weeks ago, but these Mexican sunflowers (Tithonia rotundifolia) were grown from seed by yours truly and put on an incredible show from mid-summer into November.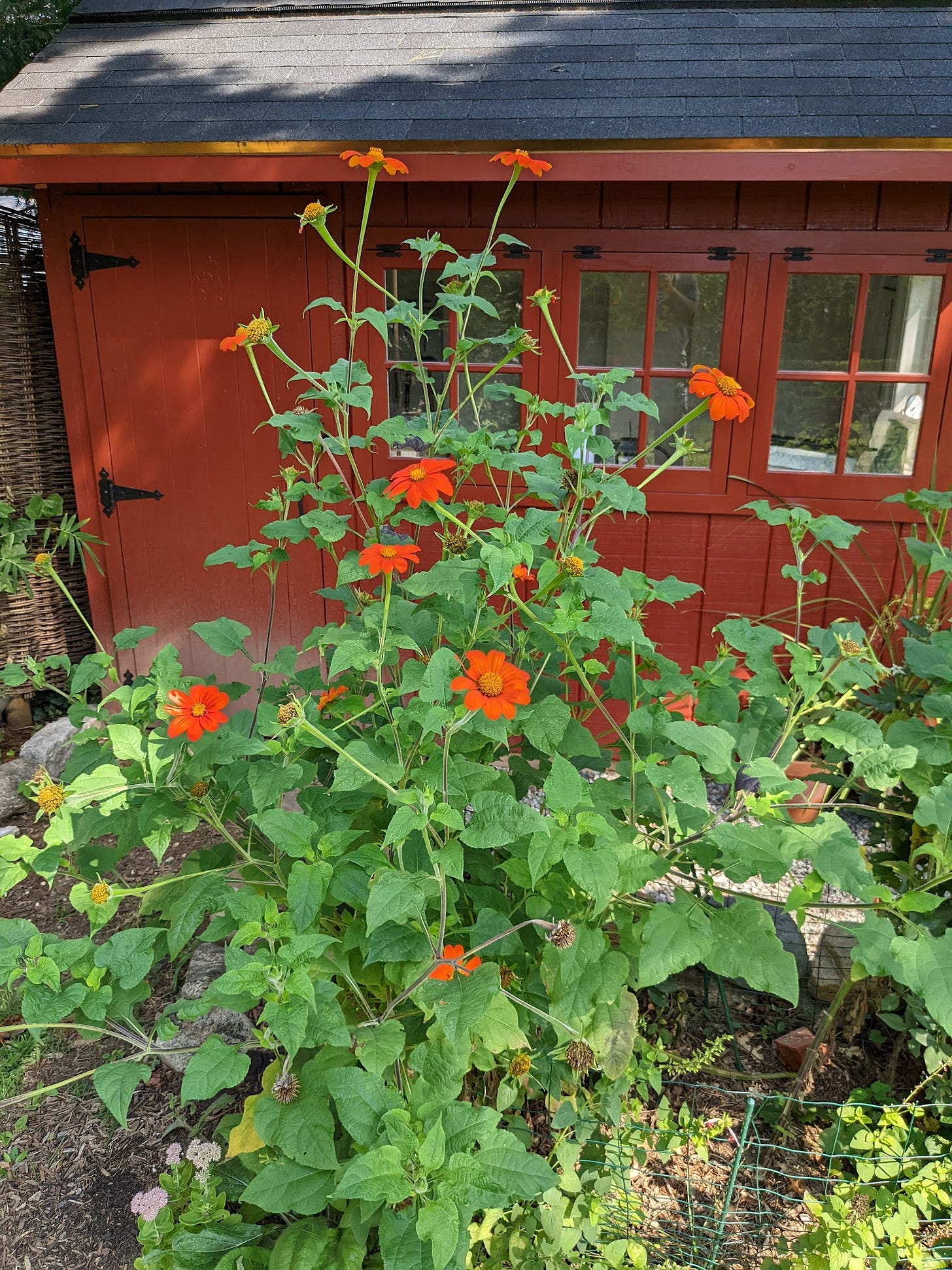 The Liberal by Tom Watson is a reader-supported publication. To receive new posts and support my work, consider becoming a free or paid subscriber.